(de)regulation nation
"I don't know whether the bird you are holding is dead or alive, but what I do know is that it is in your hands."
Welcome to (de)regulation nation, the newsletter tracking bad, better, good, and great environmental news in the Trump era.
As we get closer to the election, tracking Trump's environmental rollbacks, and debunking his efforts to mislead voters about them, will be crucial. You can help me do that by becoming a paid subscriber to (de)regulation nation for just $49 per year.
You can also subscribe monthly for $5.
I welcome your questions, comments, and tips. Send them to emily@deregnation.com.
---
Some baby shore bird goodness awaits you beyond todays' tracking of bad and mixed (better, good) news. Here's a hint: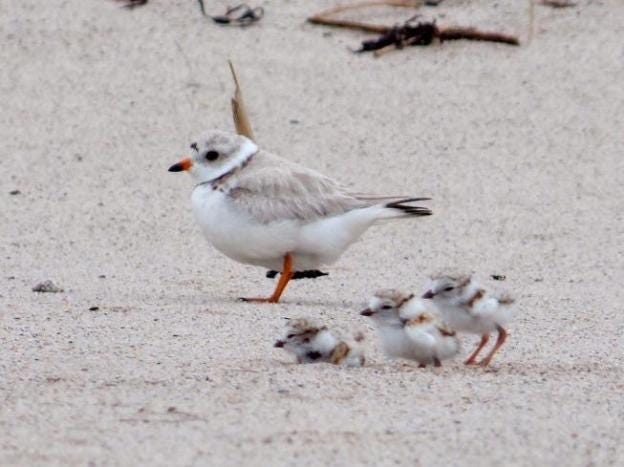 Photo: USFWS Northwest Region
bad: Trump's America is (among other things) by Big Oil and Gas, for Big Oil and Gas
Oil and natural gas industry chiefs "were some of the largest contributors to the president during the quarter that ran from April through June," reports E&E News.

Top political appointees at the Department of Interior are so determined to lease drilling in the Arctic National Wildlife Refuge before the end of 2019, that they fast-tracked environmental impact studies from years to months, and altered the findings of career scientists to play down likely environmental harms, leading more than a dozen agency employees to blow the whistle to reporters at Politico /Type Investigations.

A half-dozen top Interior officials, including Secretary David Bernhardt and former secretary Ryan Zinke, are under some form of investigation for misdeeds ranging from ethics violations to criminal misuse of office.

Last week I mentioned top agency lawyer David Jorjani, who may have lied to Congress about his role in establishing a restrictive (possibly illegal) rule on Freedom of Information Act Requests.

This week sees reporting by Pacific Standard on ethics violations by Timothy Williams, "a seasoned conservative foot soldier who currently serves as the deputy director of the DOI's Office of Intergovernmental and External Affairs." Shortly after taking his Interior job in 2017, PS reports, Williams began a "sustained collaboration" with his former employer, the arch-conservative Americans For Prosperity, to slash the boundaries of the Bears Ears National Monument.
My first story for

@PacificStand

was about the Koch network's attacks on public lands:
psmag.com/environment/be…
And my last story for
@PacificStand
was about the Koch network's attacks on public lands:
Jimmy Tobias @JamesCTobias
NEW: @Interior is beset by scandals. Multiple agency officials are under federal investigation for alleged ethics violations. Now, new #FOIA documents reveal further details about their misdeeds. My latest for @PacificStand. h/t @muckrock https://t.co/L2q1nfIBYw
Ken McQueen, a former oil firm executive and apparently a climate change denier, is taking leadership of the Environmental Protection Agency regional office that oversees several major oil and gas-producing states including Louisiana, New Mexico, and Texas, reports InsideClimate News.
In the months since a former aide to Sen. Mitch McConnell (R-Ky.) was appointed chairman of the Federal Energy Regulatory Commission, the group's rule-making work has been politicized and "thrown into turmoil," reports Politico:

"Interviews with more than a dozen current and former FERC regulators, staff and industry officials reveal widespread concerns about the agency's direction under [Neil] Chatterjee, a former staffer for the Senate majority leader who critics say behaves more like a political operative than a regulator."

"As Chatterjee draws the commission closer to White House priorities, industry officials are increasingly concerned it may soon return to one of Trump's central energy priorities — keeping uncompetitive coal and nuclear plants from closing."
better: we're talking about land use and climate change, at last
The year-over-year focus on how bad burning coal, oil, and natural gas are for the climate has tended to overwhelm discussion of how human land use practices, notably industrial-age crop farming and cattle ranching, cause nearly 40 percent of global carbon pollution.
Now the UN Intergovernmental Panel on Climate Change has issued its first comprehensive scientific report on land use ("Climate Change and Land").

The findings aren't pretty: "The world's land and water resources are being exploited at 'unprecedented rates,' a new United Nations report warns, which combined with climate change is putting dire pressure on the ability of humanity to feed itself," reports The New York Times.

While the report's findings are far from upbeat — the phrase "multiple bread-basket failure" jumps out of the coverage I'm following — I'm putting this under "better" because its release has catapulted land use problems and solutions out of the climate nerd realms, into the global climate action conversation:
good: as water grows scarce, California farmers are poised to become solar energy producers
"Solar energy projects could replace some of the jobs and tax revenues that may be lost as constrained water supplies force California's agriculture industry to scale back," reports the Los Angeles Times.

The state's ag sector may need to scale back by more than half a million acres to conserve diminishing groundwater supplies.

Building solar arrays on those acres would help farmers make up lost income, and help conserve undeveloped lands in "California's inland deserts, where bighorn sheep, desert tortoises and golden eagles still roam across vast stretches of largely intact wilderness."

In the long-cultivated San Joaquin Valley, meanwhile, solar development fits well into ongoing work to restore habitat for "for San Joaquin kit foxes, blunt-nosed leopard lizards, burrowing owls and other at-risk species."

It would also make a big dent in the state's goals for cutting carbon pollution and switching to clean energy.
great: piping plover chicks are abounding in Maine
The Maine population of this endangered shorebird has fledged 165 chicks as of August 7.

That's "a 29 percent increase over last year and a new record for the state," reports the Press Herald via the Sun Journal.

Piping plovers got Maine endangered species status in 1986. The species is listed at threatened at the federal level.

"The total number of nesting pairs is just incredible, and it gives us great productivity and tons of piping plover out there," a Maine Audubon conservation director told a reporter.

Maine wildlife officials credit coordinated efforts by federal, state, and local agencies over the past decade with the jump in births.

But the work must be sustained. "…if Maine ever stepped away from assisting with plover recovery and protecting the threatened shorebird, the species' numbers could drop very quickly."

Here in New York City, piping plovers (listed as endangered in New York State) are perhaps the only creatures who benefited from Superstorm Sandy in October 2012, reports The New York Times.

On Fire Island (a barrier island off the south coast of Long Island), "the piping plover population has increased by 93 percent" since Sandy's winds and storm surge dumped a pile of ocean-side sand onto the island's bay side.

"Piping plovers like to nest on dry, flat sand close to the shoreline, where the insects and crustaceans they feed on are easily accessible," areas also popular with humans for seaside development.
---
Thanks for reading (de)regulation nation, a production of Brooklyn Radio Telegraph LLC.
This newsletter is written by me, Emily J Gertz. I'm a veteran environmental journalist and a graduate of the Tow-Knight Center for Entrepreneurial Journalism 's annual fellowship. You'll find links to my past reporting and more biographical goodness at my website, emilygertz.com
Please send tips and suggestions to: emily@deregnation.com.
If you're not yet signed up to get this in your inbox, please subscribe!
This week's quote is by Toni Morrison, from her 1993 Nobel Lecture. A bit more:
… if it is dead, you have either found it that way or you have killed it. If it is alive, you can still kill it. Whether it is to stay alive, it is your decision. Whatever the case, it is your responsibility.