(de)regulation nation: fringe science in the capitol
"I want you to panic."
Welcome to (de)regulation nation, the newsletter tracking bad, better, good, and great environmental news in the Trump era.
Please help (de)regulation nation survive and thrive by:
Forwarding the newsletter to a few friends, and suggesting they sign up.

Signing up yourself, if someone's forwarded this to you.

Clicking the little "like" heart above. Likes help increase the newsletter's visibility online.

Starting a conversation in the comments.

Giving a gift subscription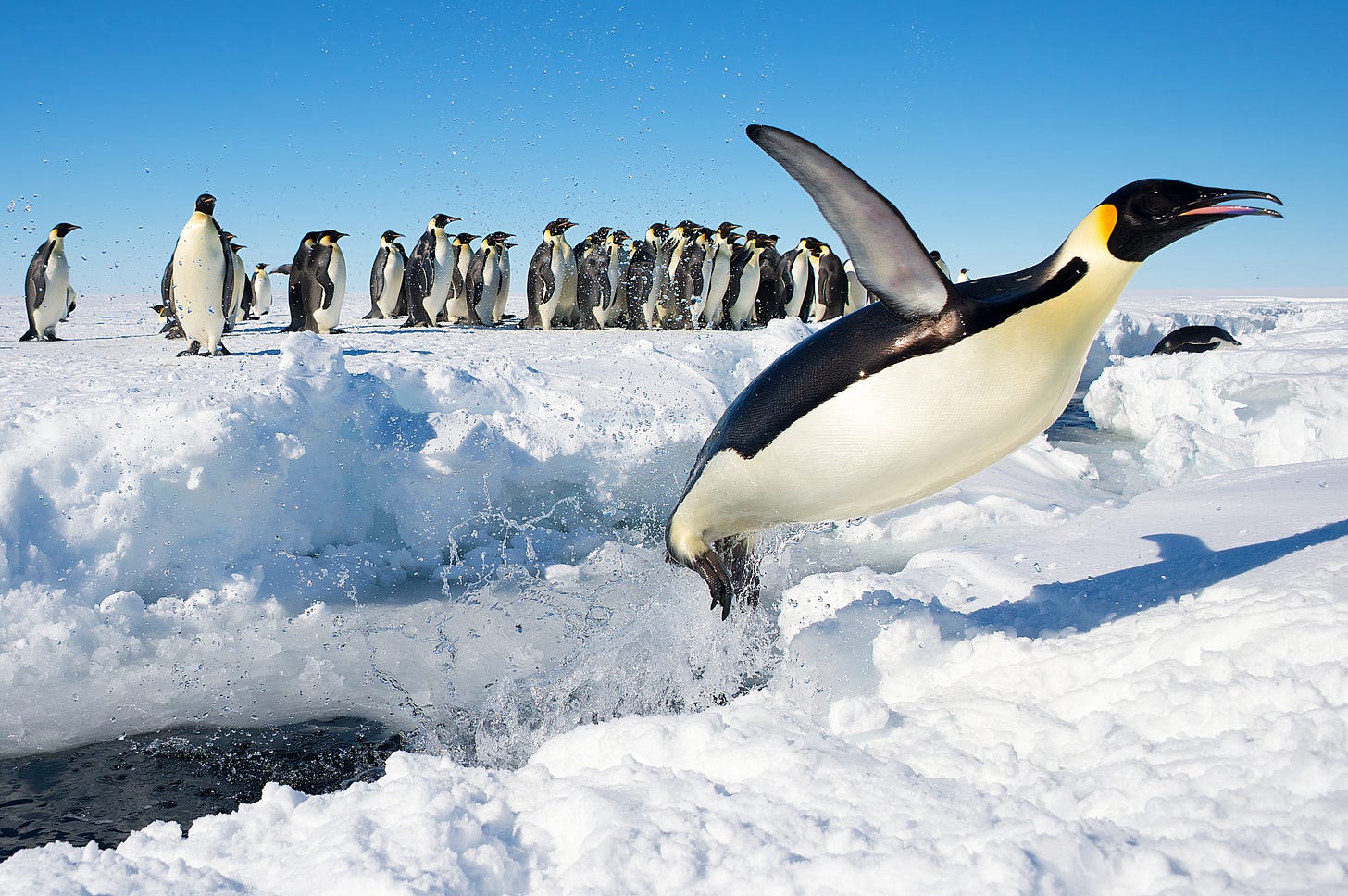 Penguin porn in honor of World Penguin Day. Credit: Wikimedia Commons/Christopher Michel CC BY 2.0
---
If you need reminding why we need strong and enforced environmental regulations, based on solid science, read journalist Joshua Sharpe's intense, gripping, and important account of the rare cancers that have struck family after family (including his own) in his hometown of Waycross, Georgia.
"The legacy of [toxic] contamination is hiding in plain site here," Sharpe writes in Atlanta Magazine, "from the shuttered operations rusting on polluted land to the less visible, like the nearly 200 lawsuits by former railroad workers filling boxes at the clerk of court's office. It's also hidden from view, permeating the dirt silently—a few hundred feet from Lexi Crawford's house."
Georgia Health News offers additional perspective on the town's cancer cases, and the efforts of a state public health commissioner to quash testing of toxic contamination linked to the illnesses.
Onward:
bad: under Trump, the EPA is dismantling anti-air pollution regulations from the basic science upwards
better: federal judge rules that Trump's coal leasing restart is illegal, but doesn't outright stop it
good: some federal land managers have continued to work on climate change despite Trump administration hostility
also good

An important NASA earth science gadget will enter planetary orbit on April 26, reports Earther: the Orbiting Carbon Observatory-3, which will collect data on carbon dioxide cycles in our atmosphere as well as other climate health/sickness indicators, from a perch on the International Space Station. The Trump White House attempted to kill OCO-3 twice by zeroing it out of the federal budget, but Congress declined to play along.
great: breakthrough new climate laws passed in New York City, Washington state
Lawmakers on opposite sides of the country approved a series of powerful anti-carbon bills in the past two weeks:
In New York City, meanwhile:
---
Thanks for reading (de)regulation nation, a production of Brooklyn Radio Telegraph LLC.
This newsletter is written by me, Emily J Gertz. I'm a veteran environmental journalist. Learn more about me and see some of my work at my web site.
I love story tips. Send 'em to: emily@deregnation.com
Please subscribe to (de)regulation nation! Click on this big green button to sign up:
This week's quote is by Greta Thunberg, the teen activist from Sweden who's sparked millions of children worldwide to go on school strikes for climate action. Thomas Gaulkin of the Bulletin of the Atomic Scientists is a fan.